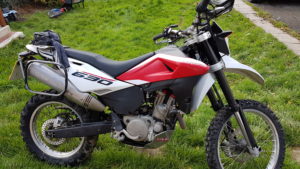 Taking the te630 out on the trails  you notice that you don't feel as tired in comparison to a day out on the DRZ400. This is thanks to it's suspension absorbing all that rough terrain. All though a tad heavy you can still keep up with the rest and go anywhere. The 600cc engine puts a smile on you face when you open that throttle.
The Husqvarna TE630 is a Enduro / offroad bike sold from year 2010. Its dry weight is 115.0 kg. The engine is single cylinder four stroke. Husqvarna TE 630 front suspension uses 45mm Marzocchi with an adjustable rebound damping. The rear suspension is equiped with achs Multi Adjustable Shock with Soft Damp Linkage . Stock tire sizes are 90/90-21 on the front, and 140/80-18 on the rear. As for stopping power, the Husqvarna TE 630 braking system includes Single disc size at the front and Single disc size  at the rear.
It has mikuni EFI and the diagnostic uses ibeat software installed only on windows xp or windows 7 32bit.
Although husqvarna don't make this bike anymore, SWM have since taken over the factory and employs the same staff to  produce SWM RS650r and other bikes which are exactly the same bikes as the Husqvarna pre KTM.